Home
>>
Products
>>
SWF to Video Converter Kits
>>
SWF to ZUNE Converter
SWF to ZUNE Converter

Powerful SWF to Zune Converter!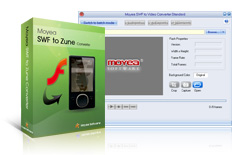 Supported OS:

NT/2000/XP/Vista/Win7
Moyea SWF to Zune Converter is a handy tool that can perfectly convert Macromedia SWF files and Flash projectors to Zune video (WMV, MP4) for playback on your Zune. Besides SWF to Zune movie conversion, Moyea SWF to Zune Converter could enable users to extract audio from the SWF files to generate MP3, WMA, WAV, M4A and AAC audio files.

This Zune Video Converter is a economical and powerful tool for converting SWF to video for home use as well as sharing with excellent picture quality and sound quality. For it costs less and has perfect performace for converting swf to Zune video, and ripping SWF to MP3, AAC, M4A, WAV, WMA audio files.

With its user-friendly and graphical interface, Moyea SWF to Zune Converter offers simple and swift solutions to head-ache problems in converting SWF files to Zune video, such as audio distortion, loss of frames, audio and video asynchronization, meanwhile, this program could process embedded or linked FLV in SWF files.

This Zune video converter also allows users to interact with the Flash content during conversion and there is no frame loss in the generated videos. Besides, its Play-and-capture technology allows users to decide the beginning frame and the end frame to capture for conversion to meet their particular needs.
---
Main Supported Formats
Convert SWF to Zune video (MP4 and WMV)
Convert SWF to MP4
Convert SWF to MP3, WMA, WAV, M4A and AAC audio
Support codecs of Windows Media 7, 8, 9
Support ActionScript
Support recording audio and ripping audio in an independent file
Perfectly convert embedded Flash videos (FLV) or linked Flash videos (FLV)
Support batch-mode conversion
Support converting Flash projector in video
Perfectly convert complicated Flash files and completely comply with the rule of WYSIWYG with excellent sound quality and picture quality
Adopt Lower-Playback-Speed technology to achieve accurate audio and video synchronization and no frame loss
Adopt audio-extracting technology, instead of recording, to 100% keep the original sound effect
Enable users to set the beginning and ending time for the created video and effectively control conversion process
FREE TRIAL WITH NO TIME LIMIT
---
Main functions of SWF to Zune Converter
Convert SWF to Zune video (MP4 and WMV)
Convert SWF to MP4
Convert SWF to MP3
Convert SWF to WMA
Convert SWF to WAV
Convert SWF to M4A
Convert SWF to AAC audio


Flash & PPT Tools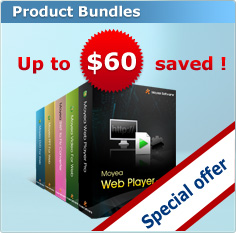 Customer Testimonials
Great! Thanks! As I said – I am very happy with your software and use it often. It is easy, fast and make a good quality videofile. I have tipsed a lot of my friends on the program.
--
From Med vennlig hilsen
Thanks for your great work – and keep up with the good work.
-- From Jay Burt
I was lucky that my search words matched your website offering. I may recommend to my friends about you.
--
From Rajesh Madhawarayan
.........