Moyea SWF to Video Family
---
Synchronization of video and audio
Smooth sound with high quality
Smooth playback of video and animations, and perfectly process complicated Flash file
Accurately keep the original playback speed
Successfully process built-in Flash videos or linked Flash videos

Do not waste your time searching for The software that can perfectly convert swf to avi, swf to video. Currenlty we're the one and the only!
Flash projecter to video
Convert online SWF to Video
 
 
 
 
 
 
Convert SWF to AVI
 
 
 
 
 
 
Convert SWF to MPEG
 
 
 
 
 
Convert SWF to MP4
 
 
Convert SWF to 3GP
 
 
 
 
 
Convert SWF to MOV
 
 
 
 
 
 
Convert SWF to WMV
 
 
 
 
 
Convert SWF to FLV
 
 
 
 
 
Convert SWF to Audio
Convert in Batch mode
Crop video
 
 
 
 
 
 
 
AVI with Alpha Channel
 
 
 
 
 
 
 
Add image watermark
 
 
 
 
 
 
 
Original frame size
 
 
 
 
 
 
Custom frame size
 
 
 
 
 
 
Price($)
99.95
69.95
49.95
59.95
49.95
49.95
49.95
49.95
Download
Purchase
Why is Moyea SWF Video Converter the Only and the Best?
Moyea SWF to Video Converter Pro and SWF to Video Converter Standard have 4 unique and powerful functions:
1. Support Flash (SWF) to AVI with Alpha conversion to keep original transparency.
2. Generate 32 bits RGBA file for advanced video edition in Adobe Premiere.
3. Offer manual mode for interactive Flash conversion, which can convert any complexities of SWF file.
4. Continually play and capture any frames of Flash (SWF file) file to convert.
Most important:
Moyea SWF Converter family can perfectly convert complicated SWF files which many other SWF converters can not! (Currently, many swf files in the market belong to one of these types)
Actions speak louder than words!
Please download test resources to test & Compare


Flash & PPT Tools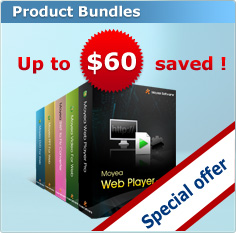 Customer Testimonials
Great! Thanks! As I said – I am very happy with your software and use it often. It is easy, fast and make a good quality videofile. I have tipsed a lot of my friends on the program.
--
From Med vennlig hilsen
Thanks for your great work – and keep up with the good work.
-- From Jay Burt
I was lucky that my search words matched your website offering. I may recommend to my friends about you.
--
From Rajesh Madhawarayan
.........