Home
>>
Products
>>
PPT to DVD & Video Kits
>>
PPT to DVD Burner Education Edition
PPT to DVD Burner Education Edition

Powerpoint presentation to DVD Burner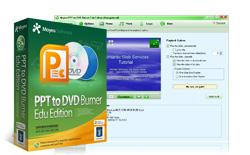 Supported OS:

NT/2000/XP/Vista/7/Win8
Moyea PPT to DVD Burner Edu
is a green E-learning app that creates fantastic DVD, Blu-ray Disc and video copies from your PowerPoint content in a few mouse clicks. With catching GUI and dual conversion capacity, the presentation-based education tool makes it easy to build SCORM-compliant DVD, Blu-ray Disc or video content that connects with and engages students, teachers, professors, IT professionals, and school administrators across different platforms.
Needless of bothering to any third-party burner, the PPT to DVD/Blu-ray/Video blend gives you the quickest reach to your back-to-school presentation on a big TV with Blu-ray/DVD player, at a mini gadget supportable of video, to an amazing Mac OS without PowerPoint, and throughout the entire Internet hosting videos. Integrate technology to your class and inspire creativity with this ingenious PPT to DVD Edu Edition!
---
Key Features of Moyea PPT to DVD Burner Pro
Create Blu-ray/DVD course content from MS PowerPoint
Convert E-learning PowerPoint stuff to 23 video formats
Cool green UI to gear the back-to-schools in a balmy sense
Frame your on-screen class slideshow with 7 Blu-ray/DVD menu themes
Slide shift - One Animation One Chapter & One Slide One Chapter
Personalize your courseware DVD, Blu-ray Disc or video with watermark
Retain every component from E-learning presentations to DVD/Blu-ray Disc/video
Sound recorder to record author narration to Blu-ray/DVD course slideshow
Free insertion of background music and pictures to final DVD/Blu-ray Disc/video
Learning-friendly "Customize" feature to drill your computer skills
Batch process 12 PowerPoint course files to minimize time and effort
Who benefits from Moyea PPT to DVD Burner Pro?
IT professionals and instructors
Administrators and Leaders
Teachers and Professors
Students at any grade level
Why You'll Love Moyea PPT to DVD Burner Edu Edition?
Easier distribution - share your e-learning presentation from a PC to a TV with Blu-ray/DVD player
More organized - save PowerPoint course content in data-protected DVD/Blu-ray Disc/video for reuse later
Get connected - stay in touch with students, classmates or teachers via YouTube & podcasts
Faster, funnier - see effect and fun in learning a subject with dynamic PowerPoint DVD/Blu-ray Disc/video


Flash & PPT Tools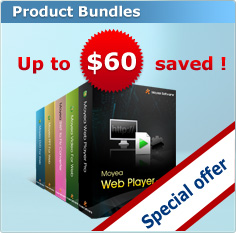 Customer Testimonials
Great! Thanks! As I said – I am very happy with your software and use it often. It is easy, fast and make a good quality videofile. I have tipsed a lot of my friends on the program.
--
From Med vennlig hilsen
Thanks for your great work – and keep up with the good work.
-- From Jay Burt
I was lucky that my search words matched your website offering. I may recommend to my friends about you.
--
From Rajesh Madhawarayan
.........